Upcoming Events:
MENTAL HEALTH SUMMER RECOVERY CAMP
The summer camp will run on Sunday 7 June 2015 until we leave the camp on Friday 12 June 2015.  The venue will be Marthrown of Mabie which is situated at the heart of the Mabie Forest, Dumfries and Galloway, Scotland.  To see images of the venue – CLICK HERE
The camp will feature a mixture of workshops and presentations during the day, with entertainment including – live music, poets, comedians, magicians, dancers and others.  The camp will be self catering, but we will have the coffee and tea stall that will sell bits and pieces.
Recommended Events: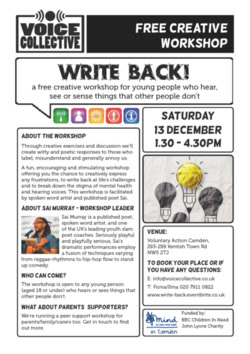 10, 15 & 17 December, Voice Collective Peer Support Group Facilitation
10.00 – 4.30pm, SE1, www.vc-fac-dec.eventbrite.co.uk
FREE to those in Greater London, £175 / £275 to those outside Greater London.
This innovative and interactive 3 day course will help you to develop the skills necessary to co-faciltiate a Voice Collective peer support group in your organisation. We particularly welcome joint applications between workers and young people (16+).
Past events:
Radical Herbalism Gathering
June 6th-8th 2014 in Shropshire, UK
Going underground, holistic approaches to mental health with Rufus May and Elisabeth Svanholmer
http://www.radicalherbalism.org.uk/
Understanding our Sensitivity
1 day workshop, June 17th 2014 in Toronto, Canada
Click to access understanding-our-sensitivity-workshop-17june2014-poster.pdf
http://www.eventbrite.com/e/understanding-our-sensitivity-tickets-11455747449?aff=efbevent

Living With Voice

s

1 day event, June 18th 2014 in Toronto, Canada

http://recoverynetworktoronto.wordpress.com/2014/04/28/livingwithvoices/

http://www.eventbrite.com/e/living-with-voices-tickets-11450588017?aff=efbevent